Although the N64 is not my favorite console (that honor goes to the Super Nintendo!), it's the one I consider the most nostalgic. The graphics may not hold up well today, the N64 controller is very "unique" to say the least, and much of the gameplay is rough around the edges compared to what we're used to now. Yet it's the console I go back to for comfort when I'm very stressed or during major life changes. Why all the Nintendo 64 nostalgia?
This post may contain affiliate links
It was the last console my parents bought for me
The Nintendo 64 came out when I was in 7th grade. I had been playing my Sega Genesis for years at that point. And though I still loved it, I was absolutely ecstatic about the N64!  The transition to 3D blew my 12-year old mind. I simply couldn't get enough of the early launch games.  They were all amazing! My parents told me it was too expensive to get for Christmas of 1996, so I played it anywhere I could-kiosks in stores, at friend's houses who were lucky enough to have one, and even vicariously through TV commercials on VHS tapes I had recorded (this Shadows of the Empire commercial was amazing). 
I bided my time until the console dropped in price to $149.99 and started an all out campaign to ask for it for my birthday. Eventually I wore my parents down and they agreed to get me one a little early (probably just to shut me up). I was ECSTATIC. The night I finally got my own system and copy of Super Mario 64 easily ranks among my favorite gaming memories.
End of an era
When the GameCube came out, it was already my senior year of high school. I was driving and had a job (at Petsmart!). I simply went to Toys'R'Us after I got off work to pick one up with my own hard-earned money. At that point the N64 era was coming to close, and I was graduating, leaving home, and starting a new phase of life in college. Things would never quite be the same again. For me, the time of the Nintendo 64 represents a transition from being a kid into the start of adulthood, and that's a big reason I look back on it so fondly.
I strongly recommend the Nintendo 64 Anthology from Geeks-Line if you want to take an in-depth trip down memory lane, too! It chronicles the development, release, tribulations, and entire game library of the Nintendo 64. All with insightful and often witty commentary! It also has a whole section on the failed 64DD peripheral, which I'm obsessed with.
I had a Nintendo Power subscription through the N64 lifespan
My first issue of Nintendo Power was #100, a few months after the Nintendo 64 released. This was before the internet really took off, so most of my gaming news and strategies came straight from NP magazines. I would check the mail every single day towards the end of the month hoping that the new issue had come-I couldn't wait to see what was in store!
As time went on and I went through high school, the internet slowly took hold (both figuratively and literally-we had a slow AOL dialup connection!). It became so much easier to find all things gaming by looking online.  I still kept up my NP subscription because I enjoyed flipping through the magazine, but when I left for college I chose not to renew it. My final issue was #159, not quite a year past the GameCube launch.  I'll always be nostalgic for the time of video game magazines reigning supreme, which is one of the reasons I now subscribe to Nintendo Force, the spiritual successor of Nintendo Power!
4-player multiplayer was glorious
The N64 didn't invent multiplayer, and one could argue that online options that came after are better. But to me, the N64 is the unrivaled pinnacle of couch co-op! The addition of a third and fourth controller port on the console opened up a whole new world of fun. Multiplayer suddenly became a lot more inclusive, chaotic, and awesome. I can't even tell you the number of hours my friends and I spent playing Goldeneye 007, Mario Kart 64 (Block Fort Battle Mode, of course), Super Smash Bros, Mario Tennis, Perfect Dark, Dr. Mario 64, and more. So much laughter and shouting. It's still fun when I host "classic game day" with my friends now-it's Nintendo 64 nostalgia at its best!
The box art
I know I'm not alone on this one! There is something about those cardboard N64 boxes with their simple but ludicrously charming images on them. I absolutely loved getting a new game not just for the gameplay, but to add another box to the collection. I still have several of my originals today, and often just look through them when I need a little boost of happiness. It's like being wrapped in a blanket of Nintendo 64 nostalgia!
The games are just special
Maybe it was the successful jump to 3D for so many beloved franchises, the start of some glorious new ones, the new multiplayer options, or just a result of it being that time in my life-I still love so many Nintendo 64 games. Granted not all of them hold up well, but many of them do, like Zelda: Ocarina of Time, Mario 64, Star Wars Rogue Squadron, Wave Race, Star Fox 64 (check out my top 10 best N64 games list!). Despite the entire library barely containing 300 games, there were a lot of unique and underrated titles in it.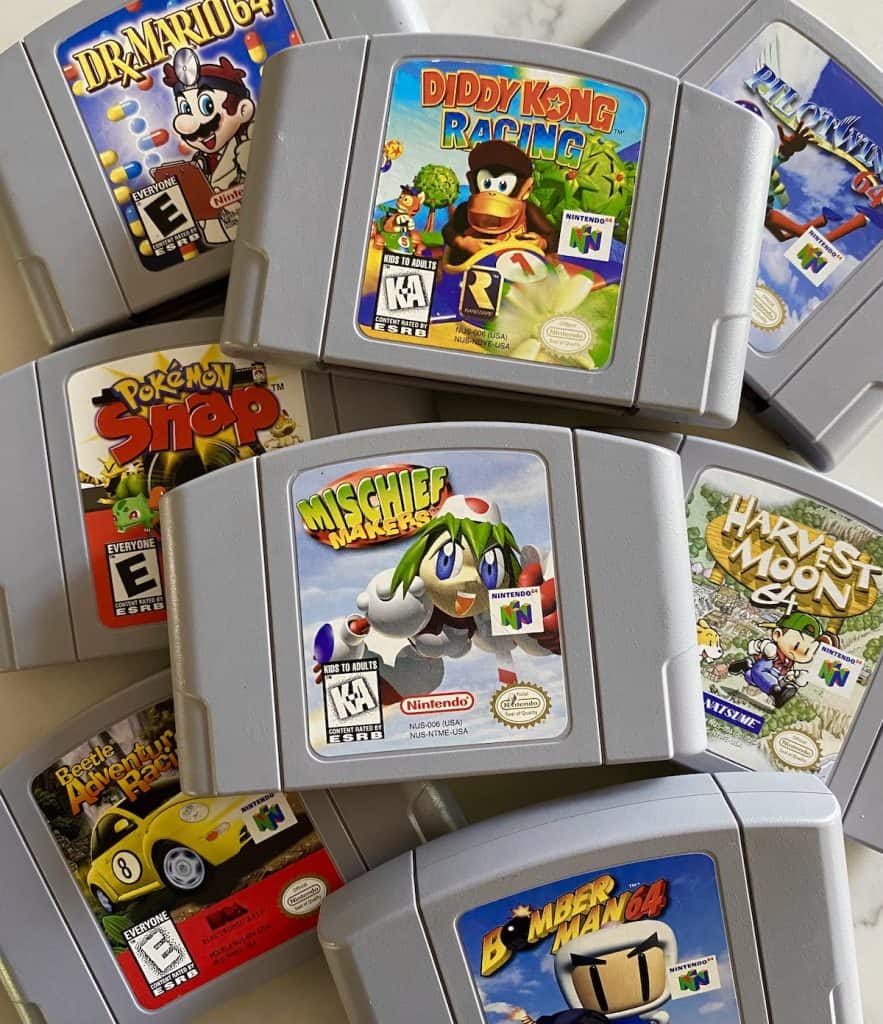 I recently purchased the amazing EON Super 64 adapter (use coupon code "THECHOZOPROJECT" to save 10%!) that beautifully upscales Nintendo 64 graphics to 480p with zero lag and makes my favorite games look the way I remember them. Now more than ever, booting up any of these games brings a huge rush of nostalgia for a simpler time, even just playing for a few minutes.
Is the Nintendo 64 your most nostalgic console? If not, what is? And more importantly, why? Please share your stories below!